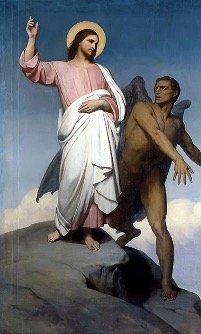 Sermon on the Nature of Evil
Fr Benji Tyler
Wantage Year C Trinity 10 21st August 2022
Every once in a while it is good to be reminded of, even confront, the problem of evil.
Evil in all its various forms - and we could name many: the evil of war, of senseless crime, of homelessness, of viral and bacterial infection, of pain and suffering caused by natural disaster or mental affliction.
Evil and sin seem to surround us on a daily basis and, to the pessimist, it would be easy to understand evil as the natural order of the world.
'You make this world lousy' says Doc, the drug-store owner, to some of the Jets in 'Westside Story.' 'That's the way we found it, Doc,' answers one of them.
This is a challenge to anyone professes to believe in God and we cannot ignore or evade it.
Is the world intrinsically oriented towards evil or towards goodness? Is evil the status quo from which goodness occasionally erupts or is the world good and evil the disrupter.
The quickness that many of faith and of none run to deny the existence of God when suffering erupts is alarming.
And so in order to safeguard ourselves against this bent we need, I think, to understand the nature of evil.
How can we, as Christians in the 21st century seeking to mature in our faith and not waiver at any slight (or indeed massive) interjection. make sense of suffering and evil?
Do we resign ourselves to Gallio's argument that, if there is a God at all, he must be completely indifferent to what happens on this planet, and cares for none of these things, or do we face the challenge with hope and courage and perseverance seeking to discover hidden mystery and truth?
I very much hope that you will accompany me on the latter journey.
Of course it would be impossible to plumb the depths of this question in one short sermon but I hope we can at least begin to discover somethings that might help and, with the women in our Gospel reading, know the healing touch of Christ.
It was Darwin who, towards the end of his long life wrote ' According to my judgement happiness decidedly prevails'. The very fact that pain and evil trouble us so profoundly, whilst goodness and order and beauty pass by almost unnoticed, is a witness to the fact that goodness is the norm throughout the universe.
the problem of evil would not present itself as a problem if chaos was the rule and not order, or sickness the normal human condition and not health. Just as people take snow for granted in the Arctic so we would take evil for granted. And yet we don't. We rail against it. We avoid it. We pray it away.
At this point I must say that there is no neat answer to the problem of evil. There are no easy solutions to any of the great problems of Theology and Philosophy and if there were I would be highly suspect of them. In every faith there must needs be a high level of agnosticism, of humility in the face of the great questions. For we must remember that in this life we walk by faith and not by sight.
So, to return to our problem. If God is omnipotent (all-powerful) nothing can happen unless he wills it. If God is Love, then whatever he wills must be good. But, you say, there is still a great deal of evil! Does this mean that God is NOT omnipotent after all, or that there is some flaw in his love and goodness?
No. to deny this is to accept false theories of evil - and there are aspects of each which are tempting to believe.
The first which says that God is the sole source of all that is and therefore somehow responsible for what we call evil, as part of his divinely ordered plan and it is useless or wrong to question it. the sort of 'God's will be done' sort of attitude. Sound's alright until you factor in the Holocaust... this attitude fails to distinguish between what God commands and what God permits to a world given free will.
The second proposal to the solution of evil can be more persuasive and is held by many Christians. God is not so much al-powerful but is all-goodness. This divine perfection makes it inconceivable that God could be responsible for any of the evil in the world and so lays it at the feet of the devil. The war between good and evil in ourselves is a microcosm of the cosmic war between goodness and evil which is why it is so popular because it is relatable. Our Lord himself appears in the gospels to support this view as we today heard him attributing the woman's ailment to Satan. But it is obvious that he treats these demons and powers as a Sovereign treats their subjects - with authority and not with reason.
To believe in a God who is not omnipotent is to admit that God is not God, for God is, as St Anselm puts it 'a Being than whom no greater can be conceived'.
The third is less probable but is also commonly held amongst Christians and that is that actually evil I, in reality, just a lesser good. For God is in his heaven reigning in omnipotent goodness and therefore all must be right with the world. Evil is reduced to an illusion because we fail to recognise it as a part of the perfection of the whole.
Yet we do seem to intrinsically know what is right and what is wrong.
So what is the 'correct' Christian view of evil?
A created world which ran like clockwork because nothing had any will of its own would have been a wonderful world, a potentially evil-free world but a limited world. The actual universe which in fact exists is, more wonderful still. We believe that God dare to create beings who share in his authority and freedom. Without freedom humankind would have been incapable of loving God or their fellow human. Humanity was made to love and love must be free.
It is only in a world where cruelty, hatred and injustice CAN happen that love, friendship and self-sacrifice WILL happen. God, the creator of angels and men and insects with free will play their part in the course of the physical universe. And it is our choice, as we heard in the reading from the Hebrews, to choose or refuse to hear the one who is speaking, who is calling us to receive an unshakable Kingdom.
The Church perseveres in the mystery of God's ultimate and universal responsibility and this is where the incarnation of our Lord Jesus Christ comes in. For in this foreknown, fore planned act of God, God accepts responsibility for all things, even evil, and in the Passion he discharges it.
Words alone cannot and do not satisfy the human longing for answers. Our primary need is not for someone to explain the problem of evil to us but for someone who will show us how to transform the suffering which results from it from being wasteful, negative and senseless into something which may be creatively used for good.
This is precisely what the Christian faith offers us. Not an explanation of evil but a tool to meet suffering and what to do with it. And in Jesus of Nazareth, we find assurance that God can transform evil into good.
Far from denying the existence of evil, the Christian gospel reveals to us the greatest crime that ever there was - that which was inflicted on a man who had done no wrong - here we view the full range and depth of evil. Standing at the foot of the cross - as I did at Oberammergau a few weeks ago, witnessing how perfect Love was treated. At the cross, evil came face to face with goodness and love and instead of goodness and love becoming contaminated, evil was neutralised and defeated. The victory of Easter Day, won on Good Friday is how God accepts and discharges all his responsibility for all the evil in the world: by enduring the worst that evil can do to HIMSELF and in doing so making it serve his purposes for good.
Fr Harry Williams of Mirfield put it like this
'What looked like the utter defeat of goodness by evil was in reality the final defeat of evil by goodness. What looked like the weakness of a dying man was in reality the strength of the living God. What looked like tragedy was really victory'.
If we believe this, we shall never complain again that suffering is wasteful or meaningless or that it defeat's God's purpose - for if God can bring good out of the cross then he can bring good out of your sufferings too. And in allowing God to do so your suffering will be transformed from the self-destruction of 'this lousy world' into one of the most effective and productive activities open to us. As Isaiah says 'your light shall rise in the darkness and your gloom be as the noonday'.
So, when suffering comes, either to you as an individual, you as community or you as God's Holy Church, remember the pattern and shape of it as demonstrated by God not only in the Incarnation, life, and Passion of our Lord Jesus Christ, but also through his triumphant resurrection, which looks forward with confidence and hope to the time when there shall be no more death, neither sorrow, nor crying, neither shall there be any more pain; for the former things are passed away. (Rev 21 : 4).
[In receiving prayers for healing and anointing, you may know yourself assured of the miracle: that not only Christ but Christians are made perfect through sufferings and that your sufferings have the potential to be transformed into joy.]
Bless the Lord, O my soul, and forget not all his benefits.
Amen.
May God the Father bless you, God the Son heal you, God the Holy Spirit give you strength. May God the holy and undivided Trinity guard your body, save your soul, and bring you safely to his heavenly country; where he lives and reigns for ever and ever.